Analyzing websites for
live chat strategy
Understanding the needs of your website visitors through a complete analysis is crucial to the success of your live chat support. Paying attention to ongoing SEM campaigns, incoming traffic from ads, organic traffic and traffic from referrals is important. In addition, consider any analytical tools used to measure campaigns' effectiveness.
Feel free to drop us a line!
Benefits of proactive chat
for e-commerce
B2C businesses can expect ROI of up to 105% with proactive chat. It can be a powerful tool
for e-commerce websites since cart abandonment rates may be as high as 68% at times.
Incorporating proactive chat at checkout can bring this
figure down considerably.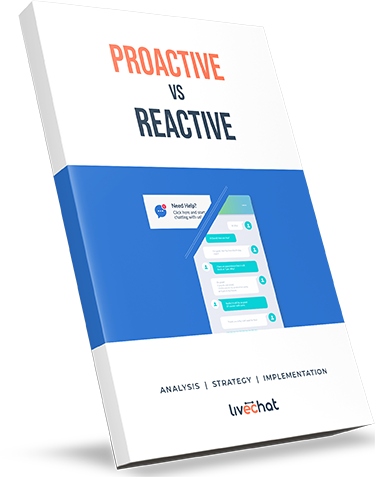 In this whitepaper, you will learn how we:
The effect of reactive and proactive chat on B2B and B2C businesses

How website analysis contributes to selection of live chat strategy

How customization of greetings improves customer experience

Optimization techniques to apply CPI on live chat support

Recommendations for live chat depending on the industry
Your customer happiness is two minutes away!
or may be one, if you type fast.