Customer Satisfaction Score
We love what we do and serve your customers the way you would do.
Customer Satisfaction Score
We love what we do and serve your customers the way you would do.
If your inbox is bombarded with customers' email, then believe that is the very point to generate your customers' happiness. CSAT is going to stand tall as prime metric for growing businesses soon, and we know how to attend them, respond them and resolve them to convert them into satisfied happy buyers through email support.
Our customer satisfaction scoring goes with proactive questioning and a checking out email feedback. Our email support CSAT score is measured side by side every closed ticket, not just on daily, weekly or monthly bases. We know customer happiness is all about real-time attention, coupled with in time responding.
Calculating Email CSAT Score
Your customers provide a transparent feedback regarding their support experience by simply rating their solved tickets. Our helpdesk dashboard displays survey results of CSAT every day, weekly and monthly. These reports are categorized into 'Good Rating' and 'Bad Rating'. To find out average of the ratings following formulae is applied:

CSAT is something abstract and not constant at all, so measuring it is tricky and varies in applications. It calculates customer satisfaction with some business, purchase or interaction. We measure it with hindsight that CSAT is direct outcome of people's mood swings that change time to time.
Simple Questioning
It is conducted through a corresponding survey scale that is 1-3, 1-5 0r 1-10 depending on the standard that you opt. A simple question like, "How satisfied were you with your experience today?" is forwarded via email, right after some purchase or query and measured against the standards from worst to best, categorically. It is the simplest way to close the loop of CSAT after an interaction that gives a quick insight into determining the level of customer happiness. It helps us evaluating our service standard and your product demand that gears us up right away.

Rating End-user Experience
This rating bothers the customer for few clicks, sans typing. They don't need to be logged in rather just choose already given options for evaluating the product or service. Clicking the response link opens up URL that triggers the end users to rate (out of categorized options) the ticket, with additional comment if they feel like.

In case, the response is negative, they are provided with a drop-down menu with general possible reasons like this: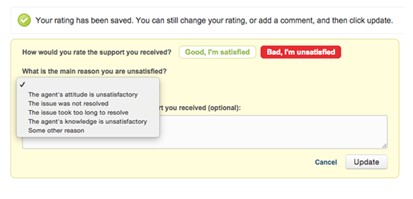 Evaluating Request Submission
It is an automated survey that is usually sent after 24 hrs or any specific duration customized for your needs. This survey is conducted after a solved ticket to know how the request was submitted before the client. The customer receives an email and they have to simply click either 'Good' or 'Bad' links while following these steps:

Sending CSAT Rating to the Reps
Conveying the reps about end users response is a must. Our automation keeps updating each ticket rating in a group dashboard for analytics and also in every rep's individual dashboard. They can access it by simply clicking 'Home' icon and viewing the 'Good' and 'Bad' rating lists of their sent tickets. It includes the tickets of the same day, a week's and of past 60 days too.
How we Optimize CSAT Score
After collecting end users responses, we analyze and come up with right solutions for upcoming better resolving and rating.
Our prior most area to consider is clients' pain points, regarding service or product. In light of these we upgrade our email contents and also send you feedbacks about your product pros and cons.
After getting an overview of reps individual and overall ratings, we come up with a standard ticket criterion. We forward that to each rep and keep updating it after certain intervals.
We also use A/B Testing technique for evolving the best content. It drives us towards best service coupled with rendering best buying experience.
Email support is all about how well a query is understood and resolved using best content. For it we keep training and updating our team with your product knowledge base for an instant right service.
For technical and critical queries our reps seek online guidance from analytics and also have got automation support for sending tickets to senior reps for best response.
We keep updating our self service portal in view of frequently received tickets for providing an in hand service.
Your customer happiness is two minutes away!
or may be one, if you type fast.