Customer support in
automotive industry
While the automotive industry possesses the greatest conversion ratio, it has the lowest customer satisfaction. This leads to higher churn rate in comparison with others. Online support enhances customer experience by providing easy access to the required information as walk-ins can be exhausting. This report reveals live chat benchmarks for automotive companies.
Feel free to drop us a line!
Factors ruling automotive
customer experience
Customers need specific information so it must be easily available on the website or social media
platforms. Access to timely assistance is a major concern. The process of sale or
purchase must be convenient. Retention and loyalty statistics depend
on the treatment of returning customers.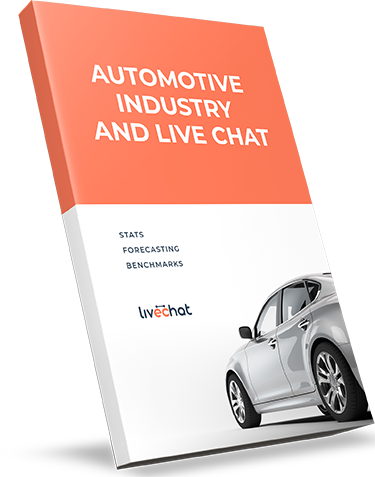 In this research report, you will learn how we:
Live chat boosts automotive customer experience

24/7 managed live chat decreases bounce rates

Proactive chat tailored greetings suit smaller companies

Custom live chat strategies target specific problems

Social media integration assists in optimization

Studying customer behavior helps strategizing and training
Your customer happiness is two minutes away!
or may be one, if you type fast.