Monitoring websites via
Google Analytics
integration
Since we required data from Snap's website to create an effective customer support plan, we employed Google Analytics for statistics. It informed us about the number of monthly visitors, most popular pages, pages with highest bounce rates; performance of landing pages and the services that attracted the website visitors most.
Feel free to drop us a line!
Advanced training of live chat
support agents
Other than drafting a detailed curriculum to polish the skills of live chat operators,
we set high standards for their simulation training. They were strictly assessed for
the qualities that Snap demanded and were encouraged to do their best
even in practice sessions.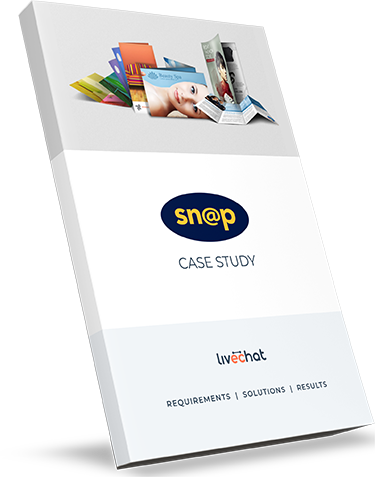 In this case study, you will learn how we:
Built and maintained knowledge banks as valuable resources

Recorded feedback and forwarded it to the relevant franchise

Implemented the segmentation approach for live chat support

Optimized live chat strategies through website analysis

Managed continuous process improvement (CPI) for customer support

Increased conversion rates in a cost-effective manner
Your customer happiness is two minutes away!
or may be one, if you type fast.