24/7 live chat support
boosts customer
satisfaction
Incorporating 24/7 live chat support into Safer VPN's customer services raised customer satisfaction to 85% leading to an influx of positive ratings on Trustpilot portal. Constructing individual strategies for Tier 1 and Tier 2 queries offered their customers fast and effective solutions no matter when they asked for help.
Feel free to drop us a line!
Live chat optimization
through A/B testing
Customers appreciated their feedback being of importance to the brand in the form of surveys.
We added, removed and adjusted features of live chat based on popularity with the customers.
Knowledge bases for refining the qualities of customer services
proved to be valuable assets.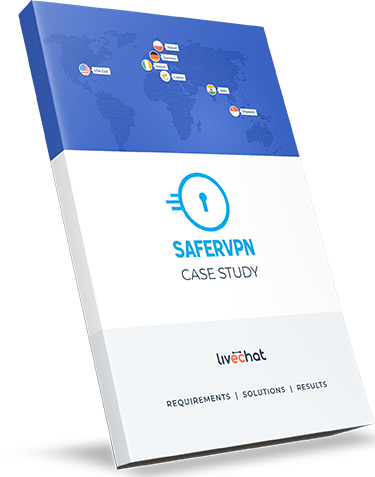 In this case study, you will learn how we:
The role of live chat support in managing website traffic

How proactive live chat strategy increases lead generation

Monitoring and analyzing the performance of live chat support

Optimization of live chat services by customers' responses

How engagement campaigns increase conversion rates

Maximize marketing investment with live chat