Greater interaction with
customers via
live chat
Since proactive live chat is ideal for increasing engagement, we developed a convenient way for website visitors to contact customer support directly. We added a personal touch by using the data that we had collected about them to anticipate their questions. This improved the overall customer experience and satisfaction.
Feel free to drop us a line!
Location-based live chat strategies
are ideal for real estate
Being a large company with multiple branches, Domain had a difficult time sharing data
amongst them. We produced an effective solution to forward customers' information
between the branches providing faster customer support that catered to
the individual needs of their customers.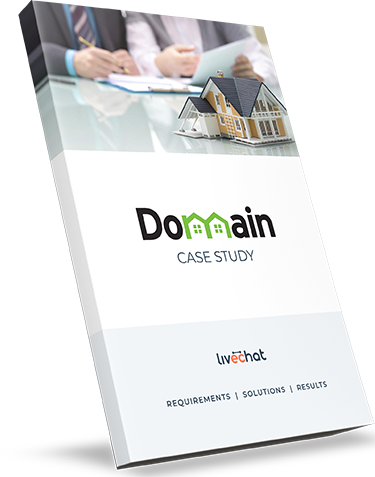 In this case study, you will learn how we:
Upgrade CRM through 24/7 live chat support

Apply live chat strategies to defeat the competition

Manage queries by forwarding data between locations

Enhance customer experience by location-based data

Conduct testing and measure the responses of customers

Organizing and utilizing reports on various live chat processes
Your customer happiness is two minutes away!
or may be one, if you type fast.