Increasing customer
satisfaction through
live chat
The power of live chat support is apparent from how customer satisfaction skyrocketed from 64% to 96% for Classic Photographers. Customers could make bookings 24/7 through a convenient package selection process along with accurate estimates for photography services. They could immediately adjust their plans after being informed of photographers' availability.
Feel free to drop us a line!
Higher referrals rates through
A/B testing procedures
Customer feedback remained an essential component of live chat optimization as the customers'
preferences were given priority. Our omni channel approach contributed significantly
in this regard as data from various channels was utilized. This resulted in
17% greater referral rate for their photography services.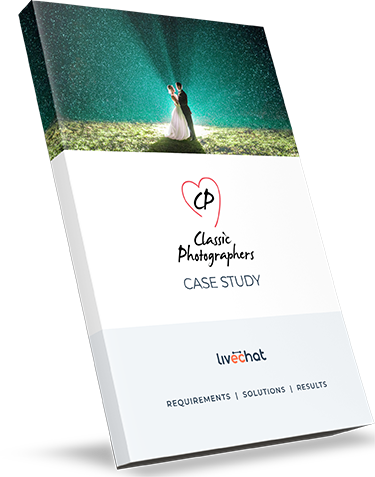 In this case study, you will learn how we:
Live chat support may assist in core business operations

Conversion rates rise by incorporating live chat feature

Businesses experience greater retention with live chat

Live chat strategy is customized according to services

Live chat support is related to customer loyalty and referrals
Your customer happiness is two minutes away!
or may be one, if you type fast.