Efficient resolution of
technical queries of
customers
Businesses that rely solely on email support, like Alaska Structures did previously; have a hard time responding to technical queries within an acceptable timeframe. Live chat allowed them to shorten their response time to a couple of seconds. This guaranteed quick solutions for existing customers producing higher retention rates.
Feel free to drop us a line!
Flexible live chat support
with future upgrades
Assurance of success is necessary for any investment. Instead of creating a complex live chat
plan, we offered Alaska Structures an affordable plan that was customized to their
requirements. This allowed them to monitor the performance of live chat
support before upgrading it.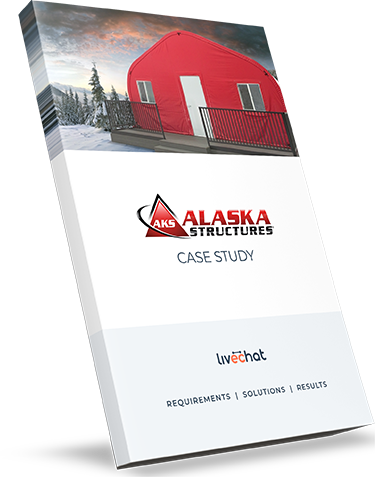 In this case study, you will learn how we:
Reduce bounce rates and churn rates with live chat

Arrange follow-ups to increase customer retention

Boost conversion rates via efficient lead management

Implement the results of A/B testing to live chat support

Design customer support to beat the competition

Optimize live chat services by website traffic
Your customer happiness is two minutes away!
or may be one, if you type fast.