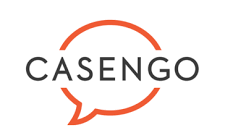 Casengo

 2/5
LiveChat is used by companies all over the world and from every industry. Startups, small and medium businesses and enterprises all rely on LiveChat in their everyday customer service duties.
Average Ratings
Overall

Ease of Use

Functionality

Product Quality

Value for money

Customer Support

Customer Services

Product Details
Starting Price
✔     €29.00/month/user
✔     See pricing details
Free Trial
✔     Yes , get a free trial
Deployment
✔     Cloud, SaaS, Web
✔     Installed – Mac
✔     Installed – Windows
✔     Mobile – Android Native
✔     Mobile – iOS Native
Training
✔     Documentation
✔     Webinars
✔     Live Online
Support
✔     Online
✔     24/7 (Live Rep)
About Casengo
Dealing with customers shouldn't be a hassle. It should be a genuine pleasure. But as a small company with big ambitions, there are so many things you've got to get done first. Customer service can't be your top priority. At 5pm each working day, you might get started on the days' customer queries – but you might not. That's what it's like to run a company with only the smallest of teams.
Casengo Features
Your customer happiness is two minutes away!
or may be one, if you type fast.